I was still in Hello Kitty mode when I suggested to my mum that we should use the moulds to make
年糕 (
nian gao/Chinese New Year Cake). So with our experiment hats on we rustled up a few today.
The key ingredients in making nian gao are glutinous rice flour, sugar and water. Rather than it being a 'normal cake' it's more of a chewy dessert, sort of like mochi?
With these key ingredients, you can also add your own flavours if you like to try something different (essence etc.) my mum usually like to add a little block of creamed coconut.
Sugar wise, people usually use brown rock sugar blocks but you can use caster (the mixture would be a white colour rather than the traditional golden colour).
Nian Gao are very simple and quick to make, today I'm going to share with you our family recipe.
You will need (makes about 7-8 small cakes or one medium one):
250g Glutinous Rice Flour.
1 and a half block of brown sugar blocks.
Roughly 2x2cm (or a little more depending if you want a stronger coconut flavour) cube of Creamed Coconut.
250ml of water.
Firstly you heat up the sugar, creamed coconut and water in a pan until everything dissolves.
Wait for the mixture to cool down for a bit, about 10-15 mins.
Add in the Glutinous rice flour and bind everything together until it looks like this:
Distribute the mixture evenly in the moulds, or pan if you are making one. With the mixture above we were able to make a extra one:
Put it in the steamer and steam for about 20mins. To test whether the cakes are ready, poke with a wet chopstick/fork/knife and if it comes out with no mixture stuck to it then they are ready.
Leave the cake to fully cool down before turning them out of the moulds otherwise they will be very sticky and a nightmare to work with.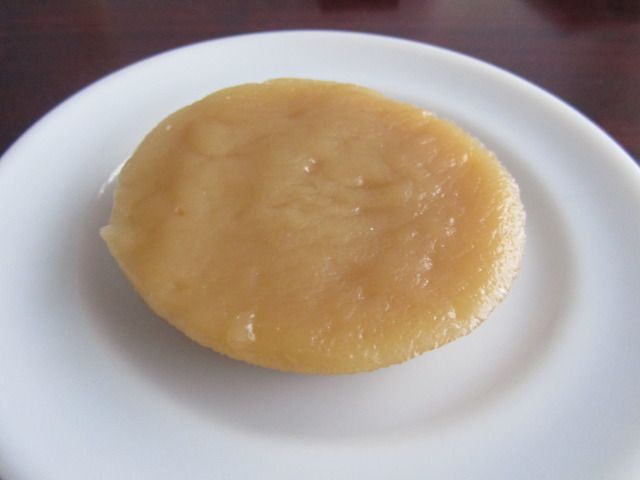 There are a couple of ways to eat Nian Gao:
You can eat it when they are fully cooled and they'll be soft and chewy.
Leave it for a couple of days until it hardens (sort of like fudge) and eat it like that.
Or leave it to harden, dip it in a beaten egg and pan fry them so it's crunchy on the outside and gooey inside.
I hope my instructions are clear and understandable, let me know if you have any questions and I will clear things up :D
~~~
Eek it's New Year Eve tomorrow, so I guess this is my last post of the year.
Hope you have a lovely weekend and Happy New Year to you all! Here's to a awesome year in 2012!! :D