At another attempt to improve my cooking skills, my sister and I decided to make some cakes.
I found a
recipe
for carrot cake online and we used it as a guideline for the main ingredients.
This is what we used:
175g brown sugar
175g sunflower Oil
3 medium carrots- grated
3 large eggs - lightly beaten
100g sultanas
Zest of one orange
175g self-raising flour
1tsp baking powder
1tsp cinnamon
A handful of walnuts lightly crushed.
Preheat the oven to 180C/gas mark 4.
Mix the brown sugar, vegetable oil and egg into a bowl and stir in the grated carrots.
Add the sultanas, orange and walnuts, then mix well.
Sift in the flour, baking powder and cinnamon. Mix evenly until the mixture is soft and almost runny.
Instead of making one cake we decided to distribute the mixture into muffin cases so they would cook quicker.
They took about 15-20 mins in the oven, however it will vary depending on size and how much mixture is in each case, so keep a eye on them. (The top of ours were slightly burnt :P)
While we had the oven on, and as I found some Pandan flavouring in the cupboard, we made come Pandan cupcakes too.
"Pandan cake
is a light, fluffy cake of Malay origins (Indonesia, Malaysia, The Philippines) flavored with the juice of

Pandanus amaryllifolius

leaves. The cakes are light green in tone due to the

chlorophyll

in the leaf juice. It also sometimes contains green

food colouring

to further enhance its colour. The cakes are sometimes not made with the leaf juice but instead simply

flavoured

with

Pandanus

extract, in which case colouring is added if a green colour is desired.
It is popular in

Indonesia,

Malaysia, the

Philippines,

Singapore,

Vietnam,

Laos,

Thailand,

Hong Kong

and

China. It is also known as pandan

chiffon."

-Wikipedia
This is the flavouring we have is from
See Woo
, it also contains food colouring. Pandan flavouring is available in most Asian supermarkets.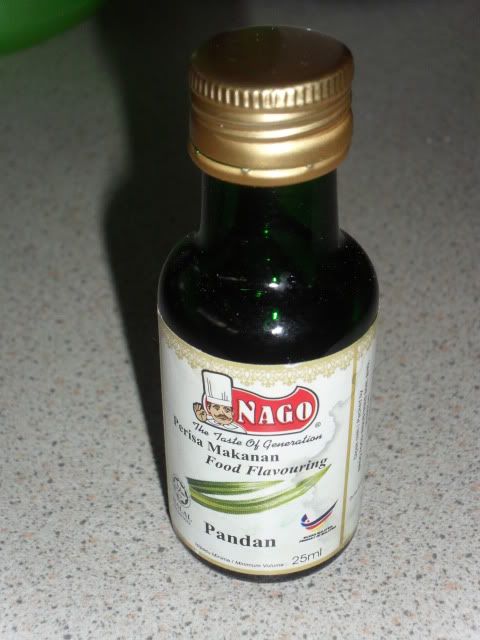 Preheat the oven to 180C/gas mark 4.
Whisk the eggs with the Pandan flavouring, sugar and vegetable oil.
Sift in the flour and baking powder and carefully mix evenly.
Distribute into cake cases and bake them in the over for about 15 mins.